2022 UNS FALL SYMPOSIUM
One Day: October 8, 2022
Delivered via Live Stream
#ChangeTheParadigm
Follow Up to Our Highest Ever Attendance in 2021
2022 UNS FALL SYMPOSIUM
One Day: October 8, 2022
Delivered via Live Stream
#ChangeTheParadigm
Follow Up to Our Highest Ever Attendance in 2021
This Fall It Will Be a 1-Day Event: Saturday, October 8, 2022

Hear the latest clinical news and developments from Dr. Freddie Ulan and Dr. Brad Kristiansen.
Hear clinical pearls.

New video release of Dr. Ulan's case studies from Southfield, MI. Plus one other new product release.
New release of several new UNS services.
Reconnect with UNS and your colleagues.
Price:
$195 for Practitioners
$125 for Staff
Freddie Ulan, DC, CCN
Developer of Nutrition Response Testing®

Brad Kristiansen, DC

UNS Clinical Training Director and Director of R&D
Dr. Shayne Morris

Owner of Systemic Formulas Inc.
Jackie Furlong

Creator of the Nutrition Coaching Course
CLINICAL NEWS
Dr. Freddie Ulan and Dr. Brad Kristiansen will both speak on clinical pearls and the latest clinical news and developments.
DISCUSSION PANEL

There will be a discussion panel, allowing you to get your questions answered about the presentations or any other burning topics.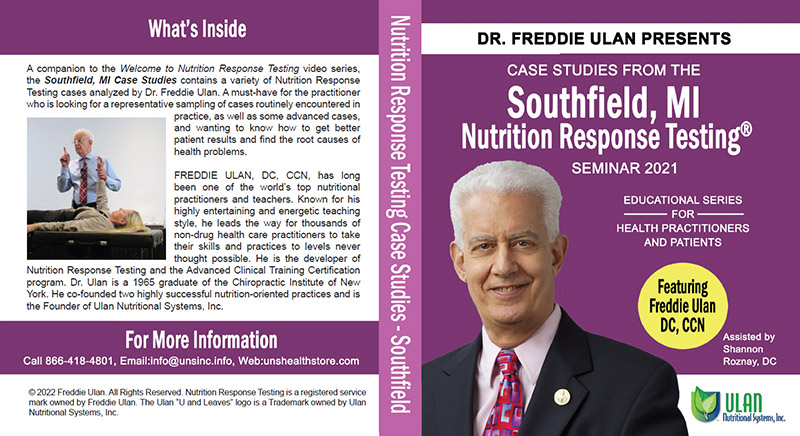 NEW RELEASES

We will be releasing two new products (including the new Southfield, MI Case Studies video featuring Dr. Freddie Ulan) and several new services at the Fall Symposium.
Check back soon for more details on our exciting new releases!
AWARDS

We will present our various awards for outstanding achievement to practitioners, including the "Above and Beyond" award, the "Wall of Fame" award, the "Doctor of the Future" award, and the "Making a Difference" award.
What Past Attendees Are Saying
I am always encouraged to step up my game with myself, my staff, and my patients when I hear from Dr. Ulan and Dr. Brad! I am excited to start testing more people on the Body Health products. Motivation on how to handle staff differently with changing this health care system.
The biggest win I received from this weekend is the kick in the pants to go back and continue to change the paradigm. Even though our practice has been growing during the pandemic, people have been coming in with such heavy emotions it can start to weigh you down. This weekend being around Dr. Brad, Dr. Freddie and all of the like-minded people has me back in a great mental spot to keep helping people heal!
So many lightbulbs went off during this symposium! I loved how intimate it felt communicating with Dr. Ulan. Mark's marketing talk was super helpful and inspired me to take action. Dr. Brad's insights helped me think through cases I have that are stuck and how to move them forward. I am excited to get back to the office!
I am so motivated to help the health of humanity, change the paradigm and strengthen our army!!!
I would recommend that all those interested in helping others get to the Symposiums, as the last one was incredible. So much info there it will take me a couple weeks to get it all "in." It's always so wonderful to talk to old classmates and renew friendships and "catch up." It's also great to meet new members of the team and see all the energy there to "Change the Paradigm." My son came to pick me up at the airport and I was so excited with the info that he caught the bug and has signed up to begin classes at UNS in May. Exciting Times! Thanks to the UNS team and especially Dr. Freddie!
No Refund/Transfer and Expiration Policy for UNS Special Event Registrations:
Once purchased, a ticket for Special Events (such as but not limited to the Symposium and Owners Retreat) are nonrefundable and non-transferable for other UNS services or products.
The ticket purchased expires after 12 months from the date of purchase. Special Events tickets can be transferred to another Special Event of the same type within a 12 month time frame starting from the date of purchase so long as the purchaser provides a minimum of thirty (30) days written or electronic (email) notice prior to the event of the desire to transfer the ticket to another event.   If the ticket is transferred to a different type of event (within the 12 month period) there may be an additional charge depending on the nature and length of the event.
© 2022 Ulan Nutritional Systems, Inc. All rights reserved. Nutrition Response Testing is a registered service mark owned by Freddie Ulan. The Ulan "U and Leaves" is a trademark owned by Ulan Nutritional Systems, Inc. The Nutrition Response Testing system has not been evaluated by the Food and Drug Administration. These services are not intended to diagnose, treat, cure, or prevent any disease.